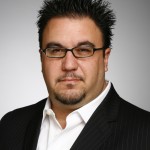 This week in episode 010 I'm joined by Stephen Rose who is the Sr. Product Marketing Manager for the Windows commercial team at Microsoft.  As a part of his job at Microsoft Stephen works on the Springboard website and writes the Springboard newsletter.  Stephen and I have been friends for several years now going back to before he worked for Microsoft when we first met at our local Southern California Code Camps.  During the episode today we talked about something which is near and dear to Stephen right now, Windows 8 having just released and the Surface RT which released just a couple of weeks ago.
Stephen and I talked about some of the resources which are available for IT Professionals that are looking to deploy Windows 8 such as the Windows 8 Jump Start which is 6 1/2 hours of videos which Stephen and Joey Snow have put together.  We also talk through some of the great new features in Windows 8 such as Windows To Go which allows you to install the entire Windows 8 OS on a USB drive running the computer from the thumb drive on any computer which is Windows 8 certified without having to actually install Windows on that piece of hardware.  There are some great use cases for this technology and we talk about a few of them in the recording.
Stephen also gives an overview of how you'll be able to install Windows 8 native applications through a private app store even when the machines aren't members of the Active Directory domain.  We also touch on some of the new features of Windows 2012 Server's Direct Access feature, the changes to Bit Locker in Windows 8 as well as the new Client HyperVisor which is available in Windows 8.  There is lots more good stuff in here, so listen in.
Podcast: Play in new window | Download